Boat Graphics: Wrapping Vs Painting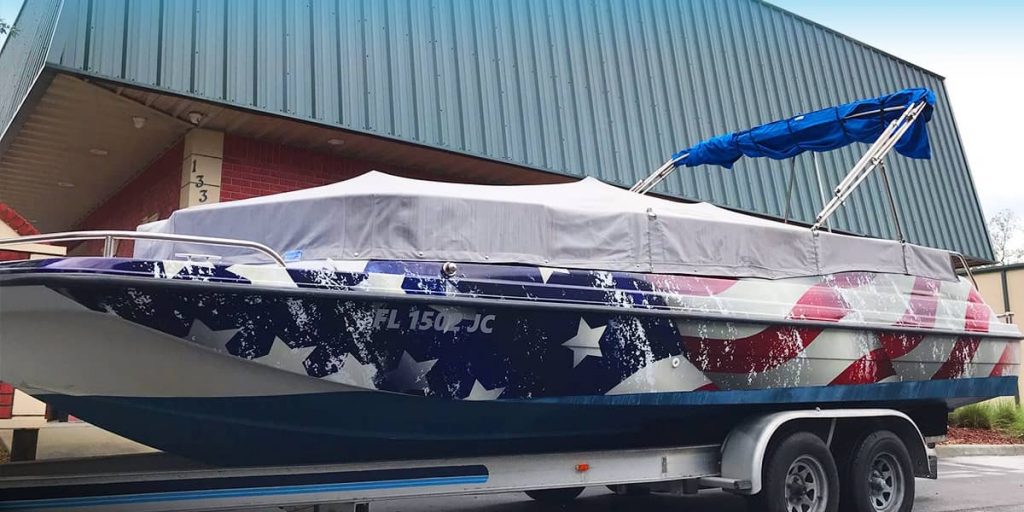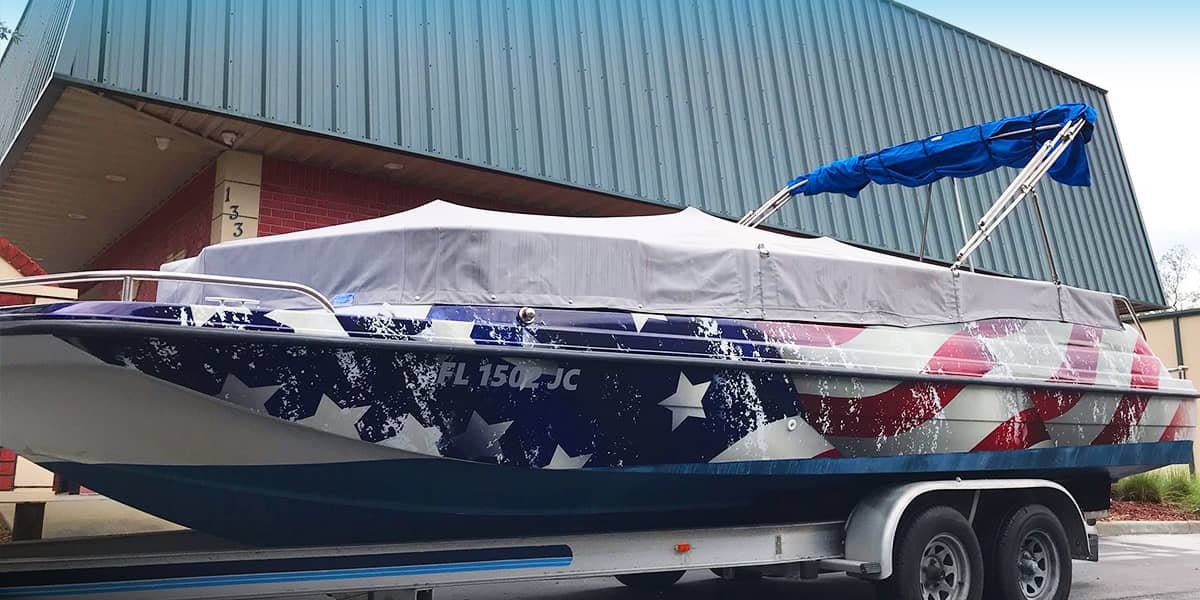 No matter the type of boat you sail with – a jet ski, fishing boat, speed boat, or even a remote control boat-you'll want to make it your own. When it comes to customizing the appearance of your boat, there are two main routes you can go down, painting or wrapping. A distinctive, unique paint job or boat graphic can best set your boat apart and show some of your personality.
At B2B Sign Resource, we are considered Tampa, Florida's #1 source for custom-designed graphics, vehicle wraps, trade show signs, business/corporate interior and exterior signage, but most importantly for this article, watercraft or boat wraps. You focus on designing the boat graphic along with our designers, we'll take care of everything else.
To help you choose between a boat wrap and a paint job, we've listed some key points below for your consideration.
Price
Getting a vinyl wrap printed as you like is often cheaper than paying an artist or a team of artists to paint the entire boat manually. The complexity of the design has no bearing on the price either for a wrap. With a paint job, the price may be increased depending on the style and intricacy of the design.
Durability
Durability depends significantly on the materials used in either case. A high-quality marine paint will help prevent wear and tear for paint jobs. For wraps using high-quality vinyl from 3M and Oracal Films can ensure your wrap stays looking great years after application. In general, vinyl wraps tend to last longer and are easier to maintain, as repairing or replacing them is quick and cost-effective. Wraps also can protect against scratches and UV rays.
First Impressions Are Essential In Business. Get A Proper Design And Graphics For Your Company!
Greater Customization
Boat wraps allow boat owners the opportunity to design any kind of graphic for their boat with no limit in terms of complexity or colors. Additionally, you can preview the artwork and make tweaks before committing to the final print, s you know exactly what you'll be getting once you proceed. With paint jobs, it's usually only mid-way through the painting that the art starts to come together so you can see if you're happy with the results. At that point, if you're unhappy with the paint job, it can be costly to rework it.
Installation Time
Depending on the size of a boat, paint jobs can take a lot of time – usually spanning into weeks. Vinyl wraps take, at most, a few days to finish for the bigger boats. You'll be back on the high seas in no time. 
Simple Removal
One of the key benefits of using a vinyl wrap is that you can swap it out quickly without causing damage to the paint below. This allows you to customize the graphics on your boat as much as you like. With paint jobs, for a total redo, you would need to sand the art off and then repaint it, a destructive and time-consuming process. Quality wraps can be removed without any marks or residue, making it the best solution if you want to potentially re-sell the boat in the future.
Summary
As you can see, choosing a boat wrap over a paint job has numerous benefits – in most ways, leaving little room for debate. Boat wraps are versatile, reliable ways to customize your watercraft. If you plan on going forward with one and are in the Oldsmar, Florida area, speak to the #1 digital artwork wrapping and signage company in Tampa. Our team has decades of combined experience creating beautiful designs and printing on high-quality materials to ensure longevity and print clarity. Contact us now and experience the difference.
Let Us Help You Stand Out From The Rest!
Share your project with us and one of our team members will contact you with the right solution.

As a specialized writer in the field of car wraps and graphics, I have a passion for creating high-quality content that informs and inspires those in the automotive industry. Whether you're a car enthusiast or a business owner looking to promote your brand, my articles and blogs are tailored to educate and engage, while also showcasing the latest trends and innovations in the car wrapping industry.